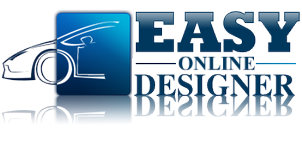 Easy Online Designer™
designer.easy-focus.com
With Easy-Online-Designer™ it is very easy to create customized vehicles backgrounds and environment by which customer's attention is directed. Easy Dialog developed the Easy Online Designer™ for the interested car-dealers. Here, the prospective appearance will be exemplary designed and determined.

So far, presenting vehicles offers in the internet with consistent appearance in the car trade field, was only through joining (expensive) professionals or reserving the invited user. Now, the user without previous knowledge of the Easy-Online-Designer™ can easily and comfortably design his own layout and together with AoS24 his vehicles photo will be provided with the consistent look and feel. The customer can upload his vehicles images immediately using the existing layout. Editing process takes place within 24 hours after determining the layout. Cutting out the vehicles and fitting them into the layout of the customers is charged per image. An automatic e-mail informs the customer that his images together with corresponding invoices are available for downloading.

And so simple Easy-Online-Desinger works: A model vehicle to be selected and a selection Menu determines if only the background to be changed or also the ground on which the vehicle stands. In any case the real-time of the result will be displayed. Determining the type of the background: Effect (the original background of the vehicle in three steps Fading , Scattering , or blurring) Default (backgrounds ordered by theme) Personal background (e.g. the place at your Sale-Building) Your personal logo(s) can be inserted in the image from stated brand logos. You can freely make placement and changes per mouse. Also your personal brand logo can be uploaded and placed for free. Company address etc. can be inserted in the lower or upper part of the image. Thereby, you can choose from a variety of preferences .The individual Company entries will be in the appropriate field of the edit mask. Fontsize and position will be changed via slider .Font, bold, italics, underline, and color will be adjusted via the existing buttons..